Skip to Content
Congratulations Angie Boucher our $1,000 Gift Card Winner!
The Winner of our $1,000 Gift Card Sweepstakes was Angie Boucher.
Like all of us, she has had plans to replace a worn out old floor and was very excited to be able to get a huge jump on that project with her gift card.
Thank you everyone for the overwhelming participation and stay tuned for the details on our next Great Give Away in June 2021.
Congratulations Angie!
Angie being presented her $1,000 Gift Card by
Kyle Magnuson – Assistant Manager – St. Albans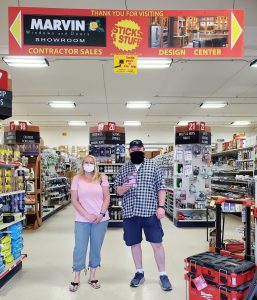 Visit One of Sticks & Stuff and Swanton Lumber's Locations Today